Home
Miami Aerial Drones
Our Aerial Drones (remote controlled small unmanned systems) Service's goal is to be at the technology forefront of custom multirotor aerial solutions for video and photo. We offer custom multicopter systems based on Droidworx, Freefly and DJI frames, from quadrocopter to octocopter and everything in between. We are also able to supply fixed wing drone systems, like the famous "Trappy Flying Wing".
Unique in this sector, as well as building the systems, we are heavily involved in there use real world applications. Sporting a large number of contacts in the Film and TV industry, as well as a network of scientific associates and the AUVSI robotic community. We can provide a vast number of services from under one roof.
Highly skilled in every field, we offer consultation services for your project needs. Covering a diverse spectrum, including Cinematography, Photography, Remote Sensing, Thermal Imaging Systems, Terrain Mapping and Infrastructure Inspection. We don't stop there, we can also provide full systems for purchase or hire. Complete with pilots and operators if required from our professional still photography and film production service.
Preset Configurations RTF
chose from the already tested "Ready to Fly" setups
New DJI S900
Ready to Fly system for Nex-5/7, GH3/4, or Black Magic Pocket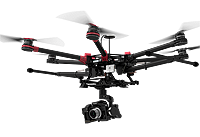 The S900 fills the gap between the large S1000 and dated S800 EVO design. You get all the new improvements S1000 users currently enjoying.
The S900 has an all new center board with removable top plate. Flighttime will be around 20min with 21.000mAh
read more
Get it!
Aeronavics BOT
The true Quad machine for the professional
The Aeronavics BOT Ti-QR is a cross hybrid CX and VM with Titanium Quick release. With 15inch props this little kit is powerful enough to lift a Point and Shoot camera for 20-25 minutes and more. It is perfect for filming in confined or built up areas
read more
Get it!
Gryphon GD-X8 (XQ1000FZ)
Plenty of lift in compact form and suited for heavy lift.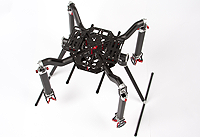 The Gryphon Dynamics GD-X8 will offer plenty of lift in compact form and is suited for your heavy lift platform. The quick disconnect and foldable boom design enables fast easy assembly and breakdown. Now with with the new "Z" bended booms.
read more
Get it!
DJI S800 Evo
Ready to Fly system for Sony Nex and Panasonic GH3/GH4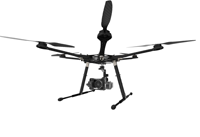 The S800 EVO is a new generation of hex-rotor platform designed for professional aerial photography. Amongst other design features, it has a strengthened and rigid frame structure, strong and stable power system and read more
Get it!
Freefly Cinestar 8
medium lift system for Canon 5D, Panasonic GH3 & GH4
The CineStar 8 offers maximum payload and redundancy for heavy lift operations. Extensive R&D has been invested in the CineStar to create a reliable and robust system for aerial video and photo professionals, allowing for longer flight times, heavier read more
Get it!
DJI Phantom H3-3D GoPro
RTF GoPro for Hero 3 or 3+ explorer or sports reporter
The Phantom 2 adds a quality Futaba 14SG Radio which provides data of the copter directly onto the radio's screen. This pack is great for the DP looking to become a PROESSIONAL Aerial Cinematographer. The new Zenmuse 3D gimbal will get you the most stable GoPro footage ever.
Get it!
DJI S1000 Spreading Wings
RTF for heavy lift Zenmuse Z15 with Canon 5D mark II /mark III
The unique folding design increases portability and allows for a quick set up and pre-flight on the job site.The new DJI S-1000 Octo Copter is specifically designed for heavy lift operations.
Get it!
Droidworx XM-X4 Titanium
medium lift system for Panasonic GH3, GH4,Sony NEX7
The RTF XM X4 Titanium Octocopter is a medium-sized UAV platform, which combines compact design with powerful and stable frame, capable of lifting medium-range payloads. It was designed for pilots interested in achieving professional results in aerial photography.
Get it!
Droidworx SkyJib-8 V2
this Lifter is the most popular Pro camera ship worldwide
The SkyJib 8 is worldwide renowned as the platform for cameras such as the RED Epic and has assisted in many Hollywood productions and other professional film projects. The new Titanium Series has perfected the art of MultiRotor Craft design.
Get it!